An Audio Sermon by Fr. Abraham Wassef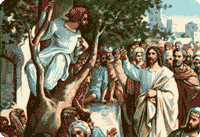 "Zacchaeus the tax Collector"
1. No one is too evil or too far to be changed. No one is beyond the power of God. The door of hope is always open.

2. True repentance always has some sort of evidence. "If anyone is in Christ, he is a new creation."
To download this sermons click here -- To go to Audio library click here